Date & Time: February 15, 2023, 2:00 pm - 6:00 pm
Location: Akwesasne, NY
Type: Job Fair
About this Job Fair: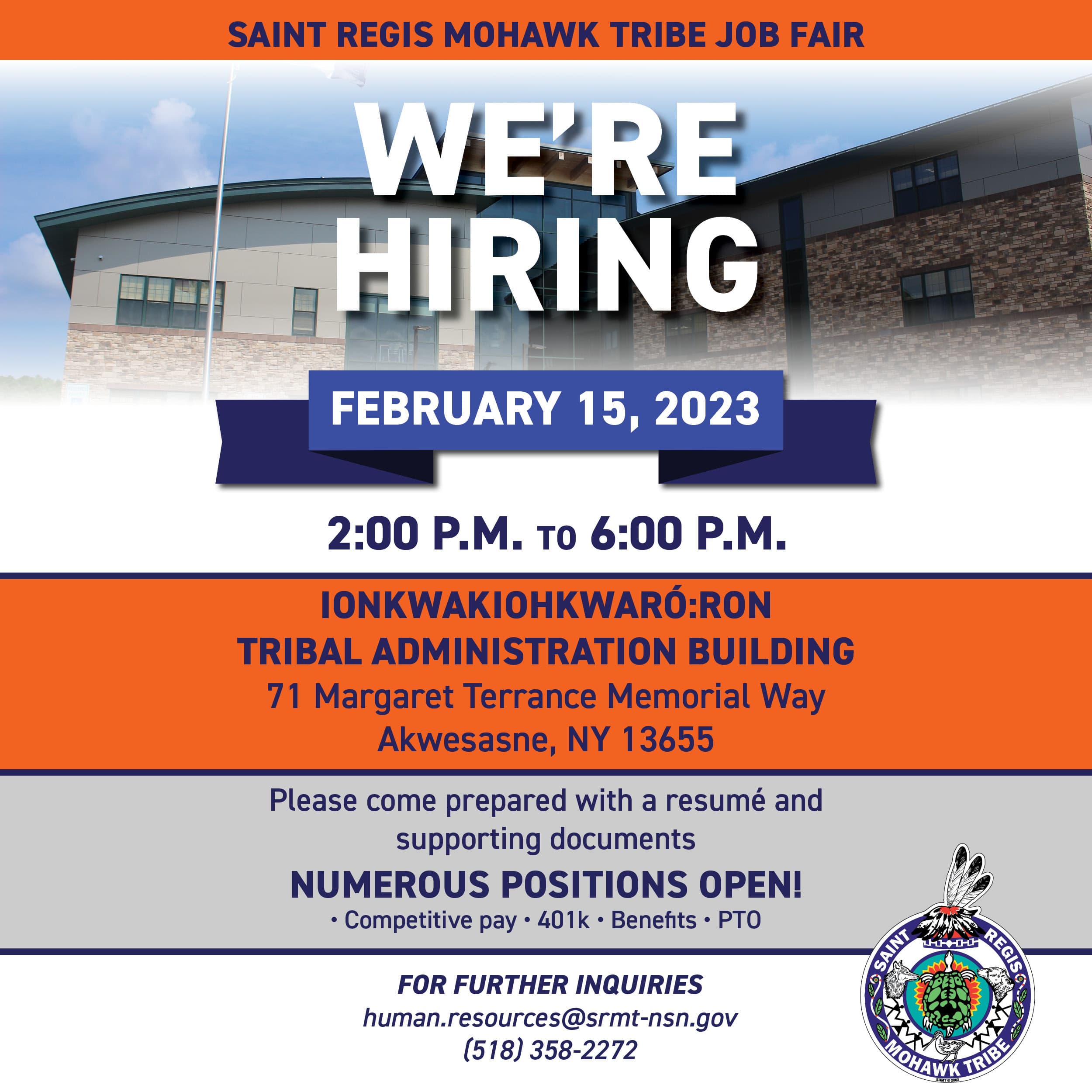 Saint Regis Mohawk Tribe is having a JOB FAIR! 

When: Wednesday, February 15, 2023
Time: 2:00pm - 6:00pm 
Where: 71 Margaret Terrance Memorial Way Akwesasne, New York 13655

Over 30 positions available! 
Competitive pay
401K 
Benefits
Paid Time Off (PTO)
What to Bring:
An up-to-date resume 
Supporting documents:

High School Diploma/GED
Workplace, educational, or personal certifications 
If applicable, valid Driver's License 
If applicable, post-secondary degree/diploma
For help preparing for the job fair contact the Employment & Training Services (ETS) by phone or email, (518) 358-9721 or education@srmt-nsn.gov. 
To receive services from ETS job seekers must register for services by completing the forms and submitting supporting documents listed below:

Completed Tribal Learning Assistance Program (TLAP) form: Click here for the TLAP Form
Completed Employment and Training (ET) Profile (Only complete the Employment Service Request Section, unless you are seeking Training funds as well): Click here for the ET Profile
Completed Client Agreement & Understanding: Click here for the Client Agreement & Understanding
Provide copy of an up-to-date resume

Proof SRMT Enrollment, MCA Enrollment, or enrollment to a federally recognized Tribe or First Nation

Proof of residency - This must be a physical address. Documents that will be accepted are:

Valid Driver's License
Utility bill
Pay stub
Bank statement
Car registration or title
Home mortgage or lease agreement
Health care document
Letter for the government or court system

Additional documents may be requested at time of registration
If you would like to schedule an appointment to begin the registration process click here to schedule an appointment.