About the Event:
Digital Marketing & Leadership Workshop Series
The SRMT Office of Economic Development, SRMT Employment & Training Services, and North Country Chamber of Commerce are collaborating to offer an 8-week Digital Marketing Training and an 8-week Leadership Training.
Both trainings will be every Monday starting on September 11th and ending on November 6, 2023 (excludes the holiday on October 9). Each session is 2.5 hours long. 
The Leadership training will start at 10:00 a.m., and the Digital Marketing training will start at 4:30 p.m. Light snacks and beverages will be provided. 
Classes will be held at the Ionkwakiohkwarón SRMT Administration Building, 71 Margaret Terrance Memorial Way Akwesasne, NY 13655.

A one-time registration fee of $125 per series is due before the first class.
To register, fill out this form by August 11th, 2023: https://forms.office.com/r/4UyiRWkVPP
For more information go to our website:
Leadership: SRMT Education Division | Leadership Training Series (srmt-nsn.gov)
Digital Marketing: SRMT Education Division | Digital Marketing Training Series (srmt-nsn.gov)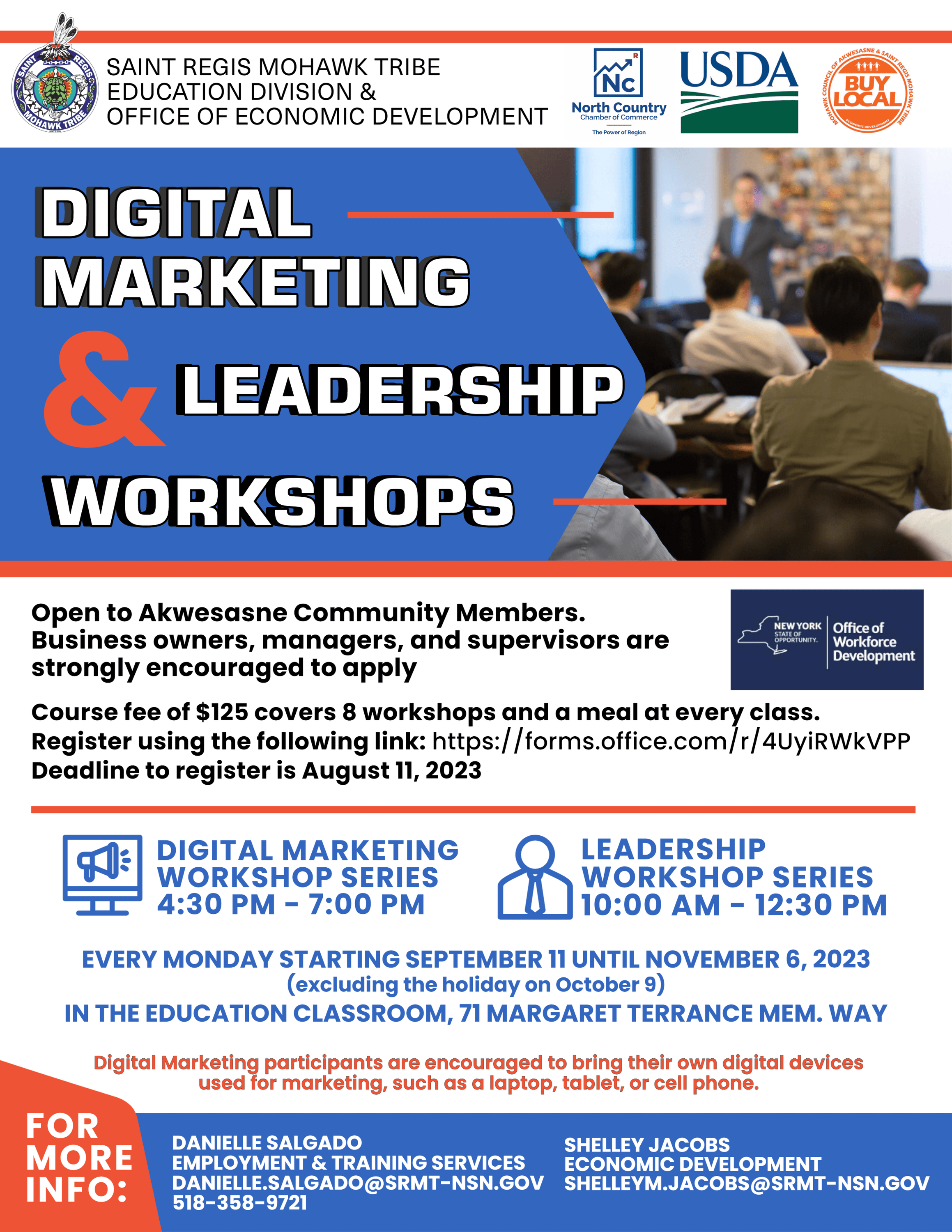 Also, we are still searching for Facilitators for these trainings: SRMT Education Division | Facilitator Callout (srmt-nsn.gov)
For more information about the trainings or to be a facilitator, please reach out to:
Danielle Salgado: danielle.salgado@srmt-nsn.gov
Shelley Jacobs: shelleym.jacobs@srmt-nsn.gov